Since some of our members dont know how it should be done

i'll try to explain it a bit

Im gonna use this posts to show you how i do it

There are multiple ways but this one seems to be the most easy one ^^
Step one: click on the icon in your toolbar called: "Host an image" and click on it.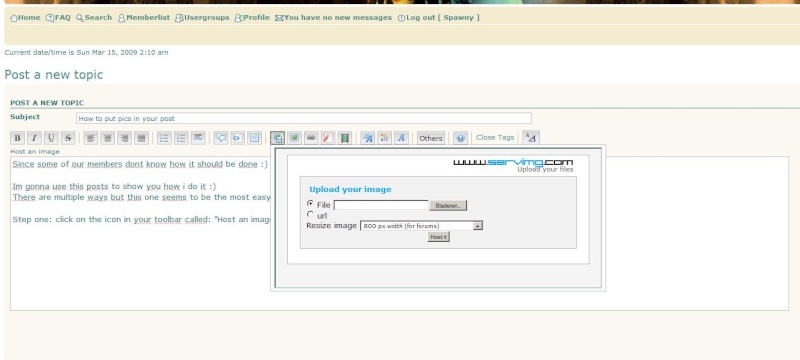 Step 2: Press the "folder button" in my case it says "bladeren" (im using a dutch interface, my apoligys for that but it will be simular for you.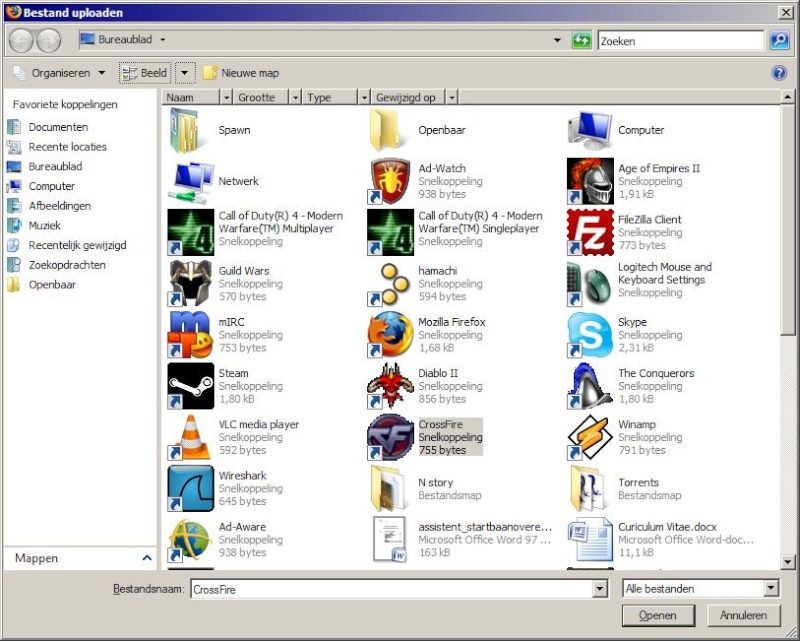 Step 3: pic the item you wanna host, mostly they are pictures. Large pictures will take time to to upload, keep that in mind. Click on "openen" or prolly "open" in your case.
it will now up show up in a window and then you click: host it.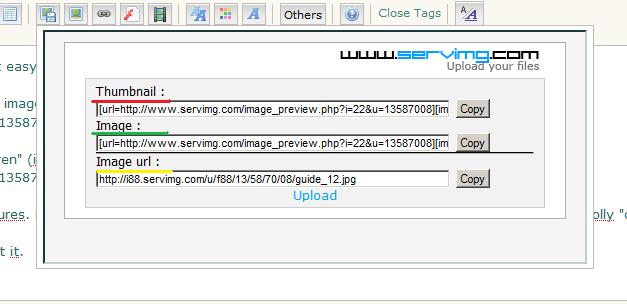 you'll get a window that looks like this. Notice that i put some colors on it.
Red: Thumbnail: means you'll get a small window with the picture in it but will not be visible well. Its also the meaning that you click on it so it will get larger.
Green: Image: The one im using in this post, it will put the image as it is in the post. Take a huge picture and you'll post get slowed down and take ages to load the picture.
Yellow: URL: This just means that you'll get a link (letters with blue line) to get to the picture.
example:
thumbnail:

Image:
URL:
https://i.servimg.com/u/f88/13/58/70/08/guide_14.jpg
To get the annoying window of your screen, just click the button again. Though i do have to warn you, if you click on it, you might get the host screen again and you lose the other links. But if it doesnt, click on "upload" to upload another picture/file.
Hope this helped a bit.
Cheers
~ Spawny
Gawd.......i still can't get it to work for me.(am i a dozey bint or what?)And i was gonna put the Guild outing pics on here too.......
AnnaX.



Posts

: 122


Join date

: 2008-05-29


Age

: 60


Location

: Kent, England



Where it go wrong Anna

?
Is it where you get the 3 links that you have to get them in the white box? :p
you click on them or select them till all is selected -> Press ctrl + c then click in the white box (where your writting) and press Ctrl + V where you want it to be.
Ive noticed if you press "copy" that it doesnt work. And if you realy have problems getting it done Anna, you can always add me on msn or just email me the pictures and i'll put them on here

My adress: Jorretje_007@hotmail.com
Incase you wonder, i made this adress when i was 10 - 11 years old. So yes, it does look stupid and childish
~ Spawny
Lemme see if I can do this....... nope it tells me Internet explorer cannot display the webpage, probably because my connection is too slow lol



Posts

: 14


Join date

: 2009-03-14


Age

: 35


Location

: Torquay, England



if your internet explorer can download the pictures in my post so that you can see them, then you can upload pictures aswell.

---
Permissions in this forum:
You
cannot
reply to topics in this forum